The MCO's Pre-Concert Recitals feature student soloists and community ensembles! 
We are excited to showcase and support local musicians and student groups, and introduce audiences to new sounds and inspiring music-making! 
Performers arrive early and have time reserved on stage for a soundcheck. After their performance, the performers are invited to stay as our guests for the concert!
Are you interested in performing in a pre-concert recital? Please contact Suzu Enns, Director of Education and Community Engagement to learn more!
---
Pre-Concert Recitals start at 6:45pm on select concert dates. 
Performances take place on-stage as audience members are arriving. All ticket holders are welcome! 
UPCOMING PRE-CONCERT RECITALS: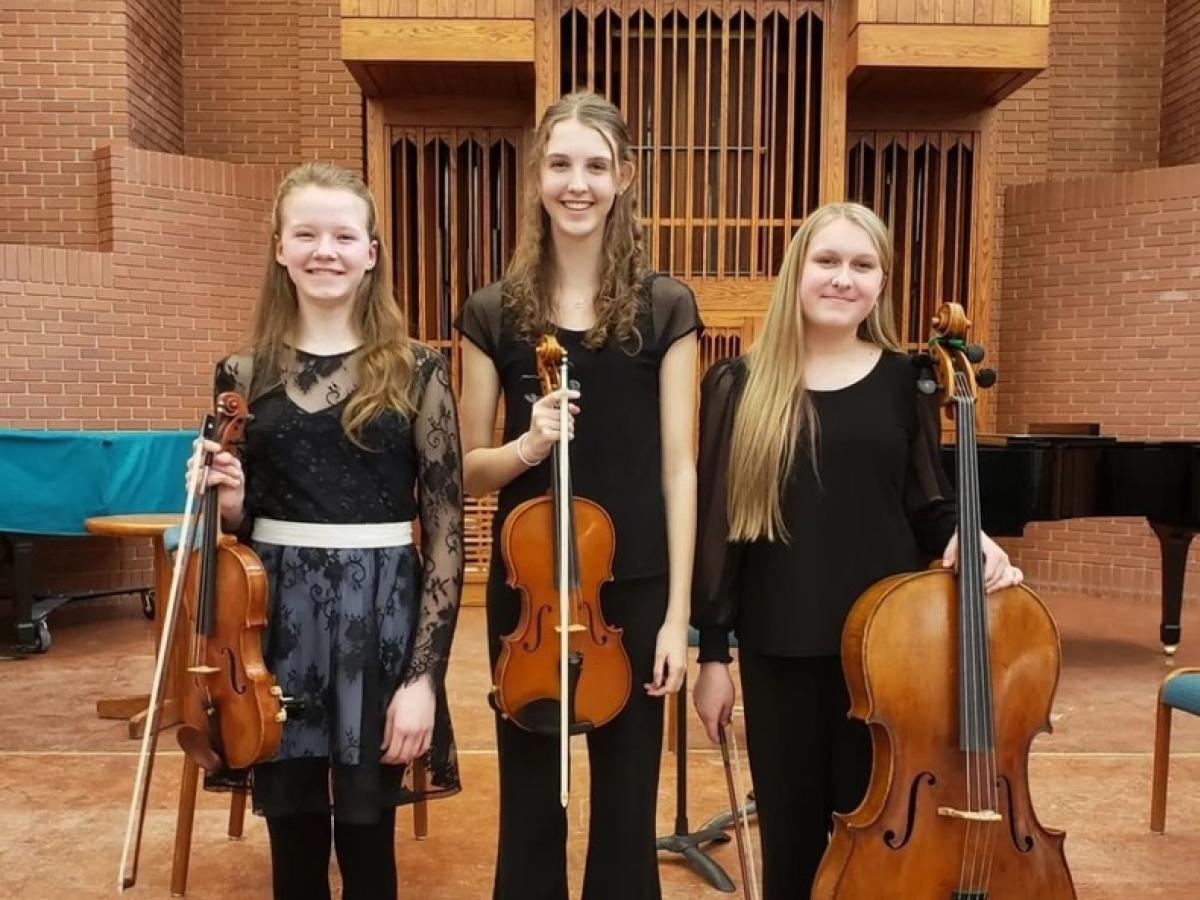 October 4th Pre-Concert Recital featuring THE TRIAD!
Starts at 6:45pm. All ticket holders are welcome! 
REPERTOIRE: 
Schubert, String Trio in B flat major, D. 471
Beethoven, String Trio in G major, Op. 9, 3rd mvt.: Scherzo 
Beethoven, Serenade, Op. 8, 4th mvt., Allegretto alla polacca 
Dohnanyi, Serenade for String Trio, Op. 10, 1st mvt.: March
GROUP BIO:
The Triad was formed under the guidance of Laurel Howard in the midst of the Covid-19 pandemic. Its three members met for the first time in the Winnipeg Youth Concert Orchestra conducted by Andrea Bell. Over the past two years, they have performed at the Winnipeg Music Festival several times and were the recipients of the Morna-June Morrow Scholarship at the Provincial Music and Arts Festival two years in a row. The Triad performed for the University of Manitoba Women's Club after Sophie, their cellist, won the WYCO's concerto competition, and was invited to perform for them again during the Christmas season of 2022.
The Triad's violinist Bella Rogers, 15, has pursued her instrument for eleven years and began studying with WSO Concertmaster Gwen Hoebig in July of 2022. She has held positions of leadership in all three Winnipeg Youth Orchestras over the past several years.
The Triad's violist, Mikayla Sawatzky, 16, has been pursuing viola since the age of 9, after switching over from violin which she studied since the age of 3. She is currently studying with acting principal violist in the WSO, Élise Lavallée. Mikayla has held the leadership role of principal violist the past 3 years in the Winnipeg Youth Symphony Orchestra and continues to pursue and perform in several other chamber ensembles whilst accompanying various choral ensembles and more.
The Triad's cellist Sophie Caron, 14, started playing cello with Desiree Abbey at the age of four years old and is now studying cello with Dr. Minna Rose Chung, the professor of cello performance at the University of Manitoba, and has weekly coaching with Bery Filsaime. Sophie has held the position of principal cellist in the WYCO and is now performing with the Winnipeg Youth Symphony Orchestra alongside Bella and Mikayla.
Expand +
Collapse -
THANK YOU TO ALL THE PAST PERFORMERS! 
SOME PHOTOS FROM PAST PERFORMANCES: