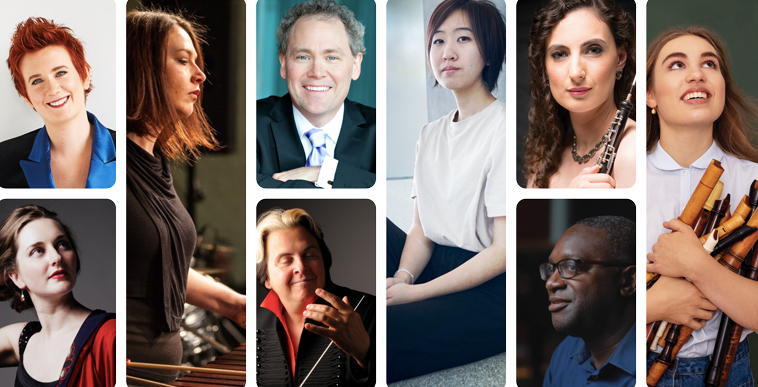 MCO's 2022 Spring Concerts
We're excited to offer our 2022 Spring Concert series—which features both online and in-person presentations over 8 concert programs! Safety and rejuvenation are both keywords for this extended season.
To accommodate physical distancing, we'll be operating at reduced capacity and offering TWO concert options per program, on back-to-back evenings at 7.30pm at Westminster Church. We encourage you to review our Ticket and Social Gathering Policies before purchasing tickets for and attending MCO 2022 concerts. There are no physical tickets this season.
Subscriptions to our spring series (or anyone who has subscribed to the 21/22 season) also include free access to high-definition video recordings of all remaining season concerts. This way, subscribers can re-live the experience from home or attend the concerts virtually. Audience members may also choose to order just the online pass, a cheaper option that gives you access to the online concerts only.  In-person casual ticket buyers, attending our Westminster concerts on a concert-by-concert basis, will also be invited to the online presentation of these same concerts two weeks later.
Spring Series Subscription packages 
Subscription (includes in-person and online concerts); make concert selections at checkout.
8-ticket full season package | $210 Adult | $200 Senior
6-ticket package | $186 Adult | $175 Senior
Benefits for all levels of Subscription:
Savings of roughly 15-30% compared to regular in-person ticket prices 
Includes tickets for all online concerts AND in-person tickets for your selected concerts
Entitles you to buy extra in-person tickets at the highly discounted rate of $25 for Adults and $24 for Seniors
Free exchange of tickets within season for in-person attendance
Tax receipt for difference between cost of in-person and online tickets if a live event is cancelled OR if you ultimately decide to stay home and only attend online event
Choice of refund, credit, or tax receipt if BOTH in-person and online concerts are cancelled
Please note: if new social gathering restrictions abruptly reduce our venue capacity further, our priority will be to honour tickets on a first-come-first-serve basis. All concert programs in our 2022 Spring Series concerts season have two presentations, and if capacity allows, we will encourage ticket-holders to switch from one performance to the other.
Online Pass
8-concert online full season package | $100 Household subscription
Benefits for Online Pass:
Savings of nearly 40% compared to price for online casual tickets
The Online Pass entitles you to access to all remaining online concerts as of the date you purchase your pass
There are 8 online concerts in total, and each is available for access for two weeks after they premiere 
Sharing of concert links with up to five other households 
Choice of credit, tax receipt, or refund if online concerts are cancelled
2022 Spring Series events
7.30pm, Tue & Wed, 8 & 9 March 2022 (online Mar 25) / Another overdue concert celebration of Canadian musicians; this one is a focus on such wonderful composers and arrangers as Randolph Peters, Gabriel Dharmoo, Larry Strachan, and Caitlin Broms-Jacobs! Clarinettist Connie Gitlin features in our premiere of Peters' Luminous.
7.30pm, Tue & Wed, 22 & 23 March 2022 (online Apr 6) / There's something sport-like about classical music's soloist arena, with its emphasis on young prize-winners performing super-human feats of speed and dexterity. In the brilliant Chooi brothers (Timothy & Nikki) we have Canada's musical equivalent of NFL's Manning bros. They team up to perform in a concert featuringOesterle, Vivaldi, Bach, & Geminiani.
7.30pm, Tue & Wed, 12 & 13 April 2022 (online Apr 29) / One of Manitoba's most cherished composers is Sid Robinovitch, whose highly original blend of folk, jazz, and classical earns him praise far beyond Manitoba. We've asked Sid to compose an oratorio based on the story of Jonah, with the popular Pembina Trails Voices performing, and Bruce Sarbit narrating. We premiere this exciting piece, Copland's Hoedown, Vaughan Williams' Thomas Tallis Fantasia, and more!
7.30pm, Tue & Wed, 26 & 27 April 2022 (online May 10) / At long last we have the chance to premiere Kevin Lau's Prayer in a Green Cathedral, an exceptional new oboe concerto
almost destined to take a prominent place in that repertoire. The "always sublime" (Winnipeg Free Press) Caitlin Broms-Jacobs stars as the work's soloist! We're also pleased to perform Haydn, Vivaldi, and De La Martinez' Four AfroCuban Poems. 
7.30pm, Thu & Fri, 5 & 6 May 2022 (online May 19) / With over 400K subscribers, pianist-composer Nahre Sol is among the most popular and intriguing artists making music online today. At this concert, she performs in her new work, Pixels. We also offer a live performance of Alexina Louie's mind-blowing percussion concerto Waking the Lion, with Victoria Sparks in the starring role. Mezzo Lizzy Hoyt dazzles with baroque arias, and the MCO plays a string quartet by Ravel.
7.30pm, Wed & Thu, 25 & 26 May 2022 (online Jun 10) / The MCO's Artist-in-Residence Aisslinn Nosky ("Toronto's Eric Clapton of the violin" (Toronto Star)) is one of Canada's foremost baroque violinists, though hardly needs introduction to MCO audiences. Here the charismatic performer will bring the house down play-conducting works by Bach, Handel, and Mozart. We're thrilled to continue to work with her.
7.30pm, Tue & Wed, 31 May & 1 June 2022 (online Jun 14) / Eminent French hornist James Sommerville is back to play-conduct a concert that features the Canadian premiere of Kati Agócs's Horn Concerto and Mozart's Horn Concerto No. 3! The MCO rounds off the program with works by Brahms and Respighi.
7.30pm, Wed & Thu, 8 & 9 June 2022 (online Jun 22) / A few years ago we filmed our first concert with teenage Dutch recordist Lucie Horsch. While she was relatively little known at the time, the video went viral — earning over 100K hits. We urge you to see the "latest big thing in recorder playing" (The Guardian), as she virtuosically flutters and trills her way through works by Kulesha and Bach, with additional works from Oesterle and Haydn.