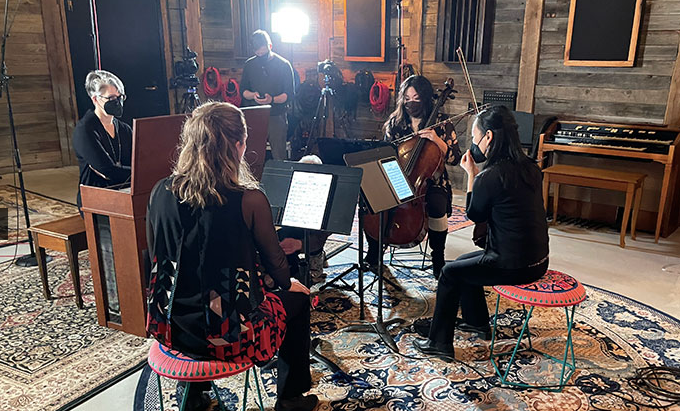 Happy March! We've already reached the finale of our Winter Series, and I can't wait to tune into the final online concert! 
This concert features a wonderful collection of music from the Baroque period (about 1600 to 1750). When you think of the Baroque period, is J.S. Bach the first composer that comes to mind? Well, you're in luck! We'll be treated to a performance of Bach's famous Goldberg Variations, masterfully arranged by oboist Caitlin Broms-Jacobs, and much more!
Once again, the concert was recorded at No Fun Club Recording Studio in Winnipeg, and after the session I had a conversation with Caitlin Broms-Jacobs (oboe), Tracy Wright (oboe and English horn) and Momoko Matsumura (violin), three of the musicians featured in this online concert.
Take a look behind-the-scenes! Enjoy this pre-concert chat with three of the musicians! Momoko, Caitlin and Tracy join Suzu for a conversation where they share insights into the rehearsal and recording process; discuss the repertoire; explore the intricacies of playing Baroque music; and tell us how much they enjoyed recording this concert for the MCO Winter Series:
See the full performance!
In February and March, the MCO will present four free online concerts as part of our Winter Series! The performances will be available on YouTube for a full year after the premiere! Visit our Free Winter Online Series page for more information.
We'd love to hear from you!
Do you have a question you'd like to ask an MCO musician, someone working behind the scenes, a soloist, a composer, or our Music Director Anne Manson?
Do you have an MCO story you'd like to share?
Do you have an idea for new educational or outreach programming you'd like to see in your community?
Do you want to suggest a topic for an upcoming behind the scenes blog or video?